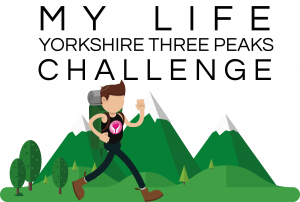 It is with great pride and excitement that we announce the My Life Yorkshire Three Peaks challenge! 
On Saturday 30th of June, we will be setting off to attempt to summit not one, not two, but THREE peaks.. in one day!
"Good grief!" I hear you cry, well good grief is correct indeed, this will be no easy task, and will require all your strength, courage, willpower and all the Weetabix in your cupboard to complete!
The Yorkshire Three peaks involves a start at approx 7am, followed by a 25 mile walk, during which you will summit 3 separate mountains over the course of about 12 hours. The plan is: in short, adaptable to you.. we have booked out 40 beds at a nearby bunkhouse, some will be camping, others will be arriving on the day!
If you are interested, ALL the information you need, as well as a registration & sponsorship form is available for download here, here and here
For anything not covered, email nyle.yates@my-life.org.uk